Bio
The Billy Shears Band is a four-piece band based out of Cranston, Rhode Island. The band has performed for over 14 years. Music performed by the band is classic rock from the 60's to the 80's from many of the popular artists of that time. Some of the featured artists are the Who, Billy Joel, Eagles, Rolling Stones, Van Morrison, and of course the Beatles.  
We bring a great deal of passion and energy to the music that we play, and we very much enjoy sending this passion and energy to the people who we perform to.
We have performed in various establishments throughout Rhode Island and Massachusetts and various outdoor Summer Concerts Series of Coventry, West Warwick, South Kingstown, Cranston, Jamestown, Chepachet Union Church, Gloucester RI., Warwick Rhode Island, Pierce Beach, Somerset Ma. And Slater Park, Daggett Farm Pawtucket RI., West Greenwich Gazebo. River Front Concerts Pawtucket's Memorial Amphitheater.  
We have played for the George Harrison Harrifest 2015 & 2016 & 2018 at the Seaport Inn Fairhaven Ma. In 2023 at Whites of Westport. a large benefit for cancer patients of the greater Fall River Ma. area.
We have been the featured band several times at the Knickerbocker Café of Westerly RI. Open Mic Series. We have played at The Old Theater Diner, Coventry RI. The Happy Clam, Swansea Ma. The Comfort Zone, Somerset Ma. Agoros Bar & Grill, Somerset Ma., Quonset O Club, North Kingstown RI., The BaHa Brother's Sandbar Grill, Taunton Ma., Pub On The Park, Cranston RI. The Wharf Tavern, Warren RI. The Portuguese Steak House, Ocean Grove Swansea Ma. Morse Tavern, Coventry RI. Home Town Tavern, Warren RI. and T-Bones Bar & Grill Coventry RI. Finn's Harborside East Greenwich RI. Progressive Club Somerset Ma. 1712 Restaurant & Grill Dighton Ma. Tavern on the Hill West Greenwich RI. 
The band consists of guitarist Eric Kopel, vocals & guitar of Coventry RI.(2014-2023) 
Mario Silvia, vocals, guitar & keyboard of Swansea Ma. Bass player Randy Grossguth, bass guitar & vocals of Coventry RI. Joe Alves, drummer & vocals of Cranston RI. After 18 years of playing with The Billy Shears Band, Eric Kopel has decided to retire from the band. We are happy to announce that Gary Ferguson of Barrington RI. has join the band. Gary will play guitar and keyboard & vocals    
The Billy Shears Band For bookings
Call Mario Silvia at 508-672-2200
Joe Alves   401-529-4347 Updated 10/23/23
E-mail marios2468@aol.com or Jlastick@cox.net                           
                                                       
Facebook is The Billy Shears Band Ma RI
 Check the home page for Facebook link must be friends to view the page.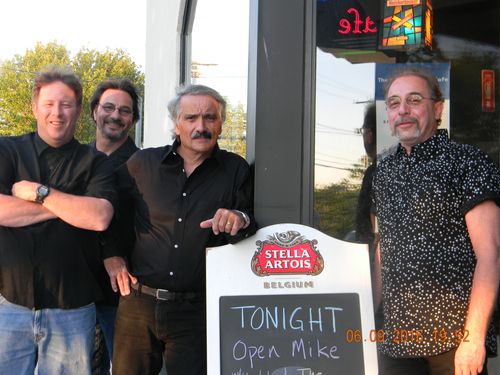 The New Billy Shears Band with Gary Ferguson 2023